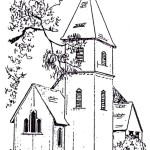 In the 1870's the LaRoche, Porcher, and Sams families settled in Courtenay, Merritt Island.  The families had moved to the area from the Charleston/John's Island area of South Carolina after losing their wealth as a result of the Civil War.  As Episcopalians they brought with them their Book of Common Prayer, which provided services for use by both clergy and lay people.  They founded a congregation as they met in their homes for worship and fellowship.
In 1886 the Episcopal Diocese of Florida (founded in 1838) formally recognized St. Luke's Mission.  In 1888 Mrs. Lucy A Boardman of Connecticut offered Bishop Edwin Gardener seed money to build a series of churches on the central Altantic Coast.  Due to careful stewardship of that money, it allowed an extra church – St. Luke's – to be constructed on land given by Mr. Edward Porcher.  This building was an example of the  "pure" form of the carpenter gothic architecture, which has been described as the most American of church styles.
Until the early 1960's this small church served the white, small, relatively isolated rural community of Courtenay.  Children were baptized, couples married, and the dead were buried in the cemetery.  The African-American community had their own church and cemetery south of St. Luke's.  The recently rediscovered Church Registry documents the life of Courtenay between 1890 and 1960.
With the expansion of the Space Program in the 1960's, Courtenay and wider Merritt Island experienced a great growth in population.  One resident described that Courtenay in the early 1960's moved from the 1920's to the 1970's.  This period saw St. Luke's membership grow and the first resident priest, so that in 1972, the Church was raised to parish (self-governing and self-financing) status.
To meet the needs of the growing congregation an education building was built in 1965, a Rectory in 1967 and a new Church in 1977.
Since the arrival of the first pioneers St. Luke's has been a place where Christians gather to worship God, support one another, and reach out to the community and the wider world in loving service.